Have you been practicing archery at home only using an archery target? You must agree that one thing is starting to happen. You are growing weary of chasing around your arrows when doing target practice. So why not complete your home archery range by putting a DIY archery backstop behind your targets. Doing this saves you the hassle of looking for your expensive arrows in the grass getting lost. From a safety point of view, you also need to know where to practice your archery. So how do you make archery arrow barriers, or should you head out and buy one? The fact is there is no need for you to buy an archery backstop, and with the DIY tips available here, you can make your own. It is also possible to make a homemade archery target.
So What Will Stop Arrowheads?
The backstop typically stops a bolt and is made of a thick spongy material to help absorb the arrow's shock. When you shoot it at a fence, wall, or something else in the backyard with a solid design, it breaks. With the right backstop material used in your home archery range for target shooting, it gives the arrowhead a place to sink into when sailing past the target and a view to find it easily. So there is no need to pay high prices or visit an archery range, and you can make a cheap archery backstop yourself. Now that we have your attention on saving money, here are some DIY Backstop tips you can follow:
A Freestanding Wooden Frame Backstop
It would be best to keep in mind that the framework needs sturdy legs perpendicular to the structure. It would be best to determine the legs' length according to your draw weight and the barrier height. For a high draw weight, a freestanding setup of 2 x 4 works best and needs to be about 5' and 10' foot in width with a height of six feet. However, the size adapts to fit in with your needs. You can use ½ inch plywood as it works with a compound bow and points. You can double up the plywood layers and add a rubber mat—these items you can buy at your local hardware store or farm store.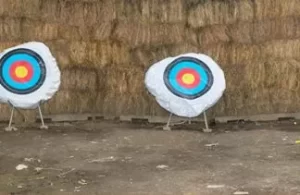 Instructions for Making an Arrow Stopper
You can lay four pieces of six-foot 2 x 4s boards creating a square and screw it together. Then add a six-foot piece down in the center for added support. Add a couple of three-foot or four-foot pieces of 2x4s to the bottom section of your framework to balance the legs. If you are concerned about the support leg structure, add more 2x4s cut pieces at an angle to help brace the frame against the leg pieces. Screw the pieces of plywood with the stall mat to the frame. For making a 6' x 6' wooden frame homemade archery backstop, you will need:
Five six-foot pieces of 2 x 4
Two three-foot pieces of 2 x 4
Six foot by six-foot piece of ½ inch plywood
Two by two-foot pieces with an angle cut of 2 x 4 with the option to use it or not
Six foot by six-foot horse stall mat (if you use a mat, make sure to invest in an arrow puller to remove it)
Cement if you want to secure it in the ground
Other Homemade Archery Range Ideas
While the above is one of the best barriers to make, other great ideas work well. You can use hay bales for stopping stray arrows by stacking them up to catch the arrows. However, using a hay bale might be inexpensive. You will need to keep refilling and shaping it.
Alternatively, you can make other archery target backstops by using a filled cardboard box with newspaper, filled cardboard boxes with plastic bags, stuffed potato sacks with shrink wrap, or a trash bag filled with rags. The important thing is to use what you have to catch the bolt. Another great idea is using carpet by hanging a few pieces to stop the shaft.
You can use a rope to hang the rug over a fence. However, we do not recommend using this barrier to shoot field point arrows as it might go right through it. What type of barrier have you made? We would love to hear about your ideas by leaving feedback here.