If you want to become a pro at archery, you need to learn how to aim your bow without using sights. The ancient style of shooting is gaining popularity in the archer's community. The cool skill allows you to hit a target like a professional.
Furthermore, you will use your bow and arrow as a medieval archer did in Europe, Ninja's of feudal Japan, and Native Americans in the Americas.
The ability will help make you a faster hunter when targeting prey with precise movement and skills. Therefore, if you want to be an intermediate in archery, you need to learn the skill of instinctive archery.
So how can you achieve this? We are here to help with step-by-step guidance.
Check out my other page about the top bow sights and other accessories.
Shooting a recurve bow without sights – instinctive archery method
Traditional archery dates back thousands of years and is a mean of aiming-by-not-aiming. It is shooting with a Longbow, Recurve Bow, or wooden bow without using bow-sights. You will use no peep sights, pin sights, or scopes.
A fact is that lately, more archers are getting back into the style of instinctive archery. It is all about the archer with his or her bow and arrow and takes practice, skill, and talent. With the technique, you will shoot like in the days of old. There are of course some things you can do to practice without a bow.
Imagine the accomplishment when shooting your arrow 50-yards out and hitting the exact spot where you want it without the help of any optic. The feelings amazing and the more you practice, the better you become. Another fact is that most traditional archers believe it is the best way to start your adventure in learning how to shoot your bow.
Furthermore, there are two styles mostly used and gives you the most useful form of traditional archery. These two are Gap shooting and instinctive archery where what you see you shoot. While many purist archers believe gap shooting is not part of instinctive archery, others disagree. There are different types of traditional archery each with their specific uses.
So why do we say Gap shooting is part of instinctive shooting? When you track and shoot as a beginner for the first time you do gap shooting by closing one eye and lining up the arrow. You do this instinctively and are a real part of traditional archery.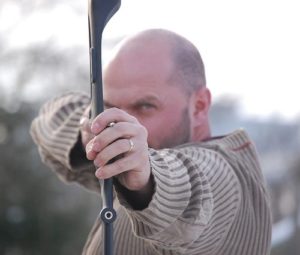 With gap shooting, you get conscious aiming while the instinctive shot is more of a see-and-shoot (subconscious aiming.) However, no matter what style you use both works hand-in-hand in different situations. You will find there are times you want to make use of gap shooting and will out shoot any instinctive archer.
On the other hand, you may find yourself in a different situation where your shooting methods reversed and you will be able to see and shoot more accurately.
With gap shots when shooting a straight line without obstacles in your way, it is a winner while see and shoot has an advantage with shooting up or down hills with barriers obscuring your view. The reason gap shots have more leverage in a straight line is it helps you at distinguishing range by sight with practice.
While with see and shoot, you can quickly adjust your aim and shoot accurately in any challenging situation.
What are the basics of Traditional Archery?
Regardless of the method of shooting you do, it is best to practice both of them. A fact is it is better to equip yourself with a good habit than correcting or replacing a bad one. Therefore, you need to take note of this section following here if you are new to archery.
If you are experienced at archery, the likeliness is, you already know the following tips, best practices, and techniques. However, if you do find the training techniques different, you can always consider changing up the way you shoot. All that we want is for you to keep an open mind to think about a new way of practicing.
The importance of your Stance
In any form of archery, the stance is essential. You need to stand 90° to the target. Meaning the goal needs to be directly in line with the outside edge of the non-dominant foot. For right-handed archers, it is the outer edge of the left foot. Therefore, you need to be facing sideways to the target. Furthermore, your feet need placing at least shoulder width apart.
Consistency of your shot sequence
Having a consistent shot sequence leads up to making the best shot without using sights. These include:
Checking if your stance is right
Nocking the arrow
Drawing the bow to the anchor point
By looking at the exact spot on the target you are aiming at
Releasing the arrow
And finally following through with your shot
You need to develop a shot sequence, in the same way, every time. Furthermore, you need to do it in the exact order before making every shot. Eventually, it becomes second nature in the subconscious mind with time.
Gripping and drawing the bow
First, when aiming a recurve bow you must not grip or hold the bow tight and should slightly rest on the top of the hand. You need to get into the habit of checking that you are gently supporting the bow. Furthermore, your draw handgrip is just as substantial. You shoot by using your index, middle, and ring finger.
These you can do either with your index finger above the arrow while your middle and ring fingers below. Alternatively, you can use all three fingers underneath the shaft. For gap, shooting the preferred method is using all three fingers under as the arrows held closer to the eye for easy aiming.
The important thing is to hold the bowstring past the fingertips but not far back that it falls into the joints of the finger. If this happens, you will release the string jagged, and it throws you off a shot. The critical thing for shooting your bow without using a sight is all about practice.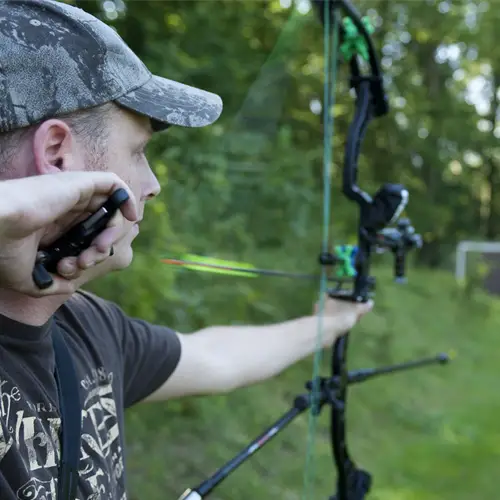 Gap Shooting With Your Bow
The first style of shooting your bow without sight is gap shooting. With the method, you line the point of your arrow up with your target. You will be judging the distance. From this point, you know how far over or under you need to aim. Furthermore, in this form of shooting archers call it "point on." Therefore, when you are point-on, you will be standing at the correct distance to complete your shot.
However, you need to remember each bow's point on distance is different. Some may be on the spot at 30-yards while others are 60-yards. The only way of finding the spot is by shooting and moving further away or closer to the target. When aiming right at the bullseye and shooting, the arrow travels upwards and descends hitting the target.
Therefore, when you are close to the target, you need to aim your arrows lower and further away the aiming is above the target. Here is how you can work out your gaps:
Start by using three of the same type of arrow by shooting them one at a time 10-yards away. Measure how far off the arrows is from the bullseye in inches and make a note.
Move back 20-years and repeat the process, making notes of each measurement.
Repeat the process until you reach the 50-yard point.
By calculating the distance, you can determine how far off you are from the target. For example, if you are off at 15-inches, standing 10-yards away from the target then aim 15-inches above the goal instead of directly at it. Furthermore, if you plan to use the gap shooting method, it is best to use long arrows.
Bow Shooting Tips 
To start your training with gap shooting is to make use a pin sight if you have one. With the optic, you can observe and memorize the gaps. During the part of your practice session, use your bow sight. Make a note of where the differences are. Now remove the optic and shoot the estimated gaps on your own.
With practicing the technique, your gap shooting accuracy will improve over time. Another handy trick for beginners is to extend his or her index finger of the bow hand to point at the target. By doing this, it helps as your fingers below the arrow and lines up with the goal.
Anchor Point
The anchor point is where your bowstring and draw hands are when making a full draw. For the majority of archer', it can be the corner of his or her mouth, cheek, or chin.
See and Shoot
The purely instinctive shot is looking at the target and making a shot without aiming. It is like throwing a ball in a direction, and it goes there. Think a little what happens when you throw a ball to a person standing opposite you. The ball goes instinctively in the direction.
The same applies to see and shooting, and all comes down to one thing your muscle memory. The same applies when you play drums as you can move all your limbs at the same time in different ways while keeping the rhythm. With training your muscle memory, improves allowing you to play the drums and the same applies to archery.
However, this form of archery takes loads more practice than gap shooting. Furthermore, it can take years to master it correctly. You will find loads of information online advising you to focus on the target. Of course, you are going to keep your focus on the target it is part of archery.
Therefore, that advice is not going to help much. It will not increase your consistency or precision when it comes to shooting. What does help is to get your shot sequence right to the point. Furthermore, you must train your eye not to look at the arrow as one does this instinctively before making a shot.
You need to look at the spot you want to hit and not the whole target. Further, you need to do this with every shot you make. Therefore, keep your eye focused on that circle, focus, and hit the target. We have heard many a hunter missing a shot that was only a few yards away. The reason they did not focus on the spot they want to hit.
The fact is they did not do what they trained, and that is to focus on the small spot. You need to concentrate on that bullseye you are shooting and keep focusing until your arrow hits it. We recommend you get into the shoot and hold the pose until the arrow hits.
Do this with every shot as it helps to train your subconscious mind to be accurate over time when taking part in any form of archery.
While gap and instinctive archery help you to shoot without using sight, you still need to do exercises to help improve your shot. Here you can find exercise tips for both shooting styles to use in your practice sessions. If you are interested in using both techniques, make sure to add these tips to your routine.
Training Exercises for Gap Archery:
Stand on a 10-yard range and shoot dozen of arrows at the target using the gap between the arrow point method
Do this until your arrows group closer to the center of the target
Once your shots group move back another 15-yards and further by repeating these steps
The crucial thing is that once you have mastered the shot from 20-yards, you need to start mixing it up and shoot at different distances.
Training Exercise for See and Shoot:
Start by taking a Styrofoam cut and attaching it to the target with the open side facing you
Stand back 3-yards away and start shooting by looking at the center of the cup
Keep shooting at this distance until your arrows group into the middle of the target
Once you achieve this, you start moving back to five yards and so on
Alternatively, you can also do 3D shooting as well
Using a compound bow without sights
Aiming a compound bow involves similar skills as using a recurve bow, but it is important that your bow is properly aligned and setup properly. All of the tips mentioned above can also be helpful for learning to aim a compound bow without sights too.
We recommend you learn both methods as both are helpful to use in various situations.
Final Thoughts
Shooting your bow without using a sight might be difficult at first, but with time, you will master it. Therefore, ditch the sight and go instinctive with your shooting. Yes, it does take loads of practice to become the best at this mystical art form. Many people use a scientific approach, but if you follow these steps mentioned, you can become an expert at it.
The fantastic thing is you will be able to hit targets quickly from long to short distances only using your bow. Your body is capable of many things, and the essential position is to anchor correctly at the same point all the time. Furthermore, it will improve your accuracy as well.